Test version: (Small testing, nothing added)
My Orchard
You feel nothing. You are in the void. Suddenly a figure approaches you and tell you your fate: you died. You don't remember how, but your new fate seems to be to reincarnate into another world. A world of fantasy, where you might be the only male. Would you consider it a blessing (all the woman are for you and yourself alone) or a curse (something happen to all those males, and that can happend to you).
Thanks to the goddess that reincarnated you, you have a blessed touch: meaning you can give mana/life to things around you. This makes you capable of bringing life to a desert.
--------
I know the engine says RPG maker MV, but imagine is says ren'py (for better or worse). It is a visual novel whose primary element is a more casual version of stardew valley/harvest moon. I use RPG maker as an engine, but expect visual novel graphics and layout (all done from scratch). But the shop menu and the save menu will be familiar to those used to rpg maker.
Controls: Right mouse click: accept; Left click: cancels
As per site rules, I cannot tag the game with things it doesn't have. But I plan for it to have (at least): M2F (don't know how long until I get to it, since people did not liked it that I took MC's willie away in OU-R), BE, Anthro, maybe Bimbo, and technically Shemale. Maybe Fem masturbation and Fem/Fem and/or Male/Fem.
This game will be mainly built by my Patreon users. I will give options to them and they will chose among those options, though I'm open to new ones.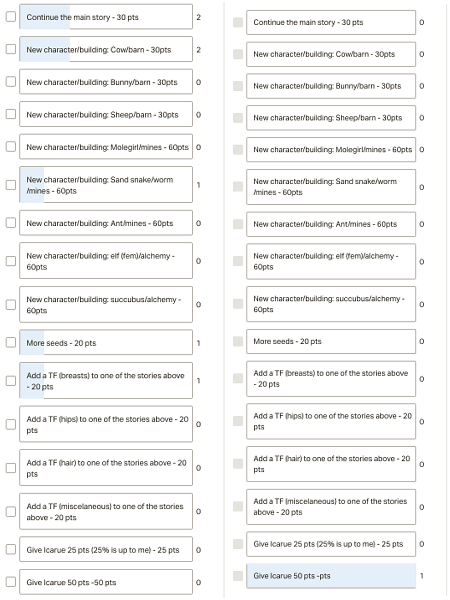 These are the results from the content that I will be working over January. Many votes are allowed per Patreon (different categories specifically). The right column is worth more than the left column (5x more). So yeah, not a lot of voters atm. You can really sway the content that will be made easily.
Credits: Goddess: Railgun; Vampire: Fhilippe124; PC: icarue